Nederlands
Trip to Barcelona: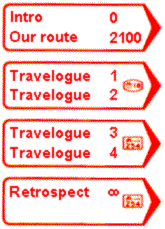 General:

Other cycling trips (in Dutch only):





<!Name hierboven is om een referentie te hebben voor "back to top"!>
Cycling trip from the Netherlands to Barcelona, Spain - Intro
In april/may of 2003, Eric and I cycled from our home in the Netherlands to Barcelona, Spain. You'll find our "live" travelogue, written at internet cafes along the way, on these pages.
You can find a map of our route on this page. We followed the route described by Paul Benjaminse.


Deze pagina in het Nederlands.

|travelogue part 1|
|part 2| |part 3| |part 4|
|our route| |gear| |conclusion|

|Judith home| (with email address)
Links to Judith and Eric's other travel pages (in English):
|Nepal| |Portugal & Spain|
|Canada| |Sweden| |Australia|
See Judith's page on Barcelona, from an earlier trip.
<!Judith, Eric, travel, hobbies, photographs, photos, pictures, fietsen, fietstocht, fietsvakantie, nederland, lange, afstand, spanje, barcelona, fiets, fietstocht, biking, cycling, bicycling, eindhoven, route, reisverslag, cycling, bicycle, trip, spain, netherlands, long, distance, bike, trekking, tour, france, frankrijk, belgie, belgium, ardennen, cevennen, vogezen, languedoc, canal, midi, pyreneeen, pyrenees, travelogue, ardennes, cevennes, reisverslag, beschrijving, informatie, travelogue, travel, account!>