Nederlands
Trip to Barcelona: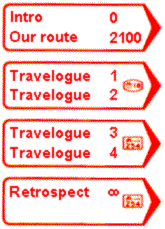 General:

Other cycling trips (in Dutch only):





<!Name hierboven is om een referentie te hebben voor "back to top"!>
What did we bring?
Our baggage amounted to about 34 kilograms, in total. With the food and water we usually had with us, this means that we probably carried along close to 40 kilograms. As to this day, we disagree on how the weight was distributed on our two bicycles - each of us is convinced that his/her bike carried most of the load, by far!
Bikes: Sparta Marathon Odyssee (Dutch bike), both of them men's models (because of the stronger construction). These are typical touring bikes, and they have springs below the saddle as well as below the steering wheel. The bikes did not originally have low-riders (baggage racks for the front wheels) but we had those put on. The bikes were perfect, by the way, we didn't have any problems with them, not even a flat tire!
Bags: each of us had two small bags on the front wheel, and one attached to the handlebars. In back we had:
Eric's bike: 2 rear bags, and the tent and sleeping mats were tied on top of the baggage rack.
Judith's bike: one large bag which hangs off both sides of the baggage rack, and also has a large top compartment.
All of our bags were made by Agu. They're not watertight, but we lined them with trash bags, and nothing ever got wet.
Each bike carried two one-liter bottles.
Tent (Active Leisure Mt Hale, 3.15 kg). Both tent poles broke on this trip, even though the tent was brand-new. We returned to the store to complain, when we got back, and it turns out to be a production defect. We were given two new tent poles, but haven't tested them yet.
Self-inflating sleeping mats.
Sleeping bags (Vaude mummy-type bags that supposedly go down to -20 Celsius. We bought these for our trip to Nepal, and they've never let us down).
Sheet sleeping-bag.


Camping Gaz stove, with a spare can of gas
1 deep pan
1 lid/frying pan
lighter
pocketknife
1 knife, 1 fork, 1 spoon
2 cups (note: no plates, we ate out of the pans)
sponge
dishwashing liquid
olive oil
chinese thea


compass (useful to place the tent such that the morning sun shines on it, so it dries more quickly. We didn't need it apart from that.)
route descriptions Amsterdam - Barcelona (Paul Benjaminse)
spare inner tube
spare spokes, and an emergency spoke (wire) (you can put these inside the frame, underneath the saddle)
2 wrenches
screwdriver
tools to repair flat tires, and to tighten spokes.
We bought a bottle of lubricant in Beaune - it was really necessary!
flashlight
Philips Xenium cellphone
battery charger for the phone (even though the phone runs on one battery, on standby, for about 2 weeks)
cable lock for the bikes
Canon EOS analog reflex camera + filters (big and heavy, one entire handlebars-bag on its own, but it lets you take the best pictures!)


wallet, money, bank card, credit card
passports
insurance card


3 books
pens, paper, diary
sun-tan lotion
bandaids, disinfectant
vaseline (to protect our behinds)
medical tape for our wrists (not used)
anti-diarrhoea medicine
other medication
portable female urinal for Judith, so she can pee in the tent

clothing, per person:
2 cycling shorts
1 cycling shirt
We took the shorts and shirt in the shower, in the evening, to wash them. The shirt was usually dry by the next morning, and the shorts were tied to the baggage, to dry: no problem!
cap (useful with sun and rain!)
Teva sandals (we normally cycled on these)
2 convertible pants (zip-off pant legs; to make sure everyone can see we're Dutch, from a mile off...)
2 t-shirts (Judith secretly took 3, but the third was really not necessary)
3 pairs of socks
3 x underwear
1 fleece sweater
swimming gear (not used, mittens and a wool hat would have been more appropriate)
sports shoes (Judith also secretly took 2 pairs of these, but one would have been enough)
rain coat (no rain pants: we let our legs get wet when it rained)


1 bottle of Sanex shampoo (which we used as soap, shampoo, shaving cream, and laundry detergent)
contact lens box and liquids, hard contacts, disposable contacts, glasses, a box for the glasses (pretty much everything you can get in the optician's field, except for liquid to clean the hard contacts: Eric simply did not clean his contacts for 5 weeks, which is not unusual for him anyway)
toothbrush, toothpaste, flos (our dentist would be proud)
hair gel and mousse (Eric did use his gel, Judith didn't use the mousse)
facial cream
deodorant
shaving razors
a camping towel each (about postal stamp-size, but they dry very quickly)

We were through the first route description book in Cluny, and considered sending it home, along with some other stuff that we didn't need. However, all of this stuff together weighed about 1.5 kg, and the mail costs were quite high. We figured that a bit of headwind is going to do more than those mere 1.5 kg, and didn't bother to send it home.

Top of page