Nederlands
Trip to Barcelona: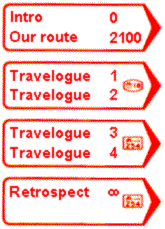 General:

Other cycling trips (in Dutch only):





<!Name hierboven is om een referentie te hebben voor "back to top"!>
Afterthought on our cycling trip from Eindhoven (the Netherlands) to Barcelona (Spain)
In april/may of 2003, Eric and I cycled from our home in Eindhoven, the Netherlands, to Barcelona, in Spain. On this page, you'll find what we think of the trip, looking back on it.
The conclusion....

It was a fantastic trip, in which we had many unforgettable experiences. We saw beautiful views, met friendly people, and (even though we tend to forget this) accomplished quite something. It was absolutely, 100% certain, worth it, and we hope to do something like this again.

Of course, a cycling trip like this mustn't be underestimated, especially if you haven't done such a thing before, and aren't really a super outdoor-freak (and if you're not into the no-pain-no-gain thing).

There were moments in which a few small inconveniences - which were insignificant by themselves - started adding up. Sometimes it got to the point that we were seriously fed up, that we had a psychological dip. However, it never got quite so bad that we actually even considered giving up. These phases were always followed by a pleasant descent, a nice view, or a fun pub, and we were always back on our way before we knew it, feeling a lot better and with the bad moment already fading into the past.

Judith's achilles heel infection on the third day was a different thing; we were seriously worried that this could bring our trip to a sudden halt, and were trying to find a work-around. The actual solution, however, was better than any we came up with: a Belgian doctor filled the heel with his cocaine stuff, and we could continue on our journey almost without a problem!

Eric's illness, a few days before we arrived in Barcelona, was never a serious threat. We had already come so far, and were so determined, that he would have cycled on even with diarrhoea and nausea. However, we would probably have taken the train for the very last bit into Barcelona, if he hadn't felt better.

I read another travelogue of a long cycling trip, and I agree with what the author wrote. Basically, the good memories remain good, and the bad ones develop into cool anecdotes. The anecdotes already start forming during the trip, and get even better once you're home! This way, even the worst things you might run into, end up with something of a positive twist.

We did think this was a challenge, but on the other hand it was not as hard as we had feared. We just packed our bags every morning, mounted our bikes, and cycled a bit further. No problem! Just do it! And that brings us to what we think is the most difficult part of the entire trip: starting it. Not just thinking about doing something like this, but getting down to it! So if you're thinking about a long-distance cycling trip, our advice is to go ahead, do it, and it will be worth it!
|travelogue part 1| |part 2| |part 3| |part 4|

|our route| |gear| |introduction| |Nederlands| |Judith home|