Eric and I visited Mexico in the fall of 2004, and one of the ruined Mayan cities we visited was Chichen Itza, in the Yucatan. Chichen Itza is largely known for its large pyramid, named El Castillo (the castle), or Kukulcan's Pyramid, after the god it was (probably) built to honor. Kukulcan is also known as the Feathered Serpent, or man-bird-snake, or Quetzalcoatl (in the Aztec language), I believe; the man had a huge impact.

Kukulcan's Pyramid is well-known for the shadow effects along the sides of its northern staircase. These effects are only visible on certain days of the year, close to the spring and fall equinoxes, and attract crowds of visitors. For example, on September 6th (just before the fall equinox), between 5 and 5:30 PM, the setting sun projects a row of triangles of light on the northern staircase. Archeologists believe that Kukulcan's Pyramid was built to predict the solstices and equinoxes, to signal the planting and harvesting seasons.

If you're interested, the field that deals with archeological buildings that were built with astronomical meaning is referred to as archaeoastronomy. A few examples of sites with more information on the archaeoastronomy of Chichen Itza are: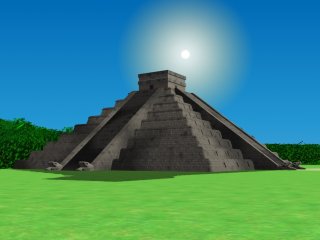 The red arrows in the image below indicate two of the triangles of light on the northern staircase.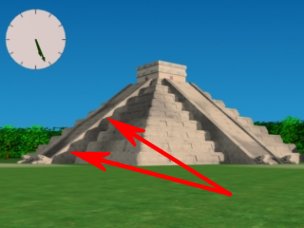 Click here to see the:
short movie, wmv3 codec (140 kB)
short movie, mpg4 codec (520 kB)
full length movie, wmv3 codec (590 kB)
full length movie, mpg4 codec (2.6 MB)